Mar 20, 2012
2,882
1,353
713
Hi All,
I just bought a pair of new speakers and installed them in my car. I'm installing them into my Myvi lagi best model. For those who doesnt know, Myvi original speakers causes me in deep dilemma, giving me dizziness, nausea, high-blood pressure, and deaf to my ears if being exposed for too long. Luckily, all these are curable, with just a few hundred bucks.
I had changed my front speakers to a set of new 4" MBQ speakers. Since the front 4" speakers doesnt cause earthquakes to the car, I did not install any insulation in the front.
For the rear, I bought a pair of 6.5" 3-channel Boschmann speakers at RM200. So total RM340 to avoid deaf to the ears and potential death. The problem is when I blast them, the sound of vibrating metals and plastics are kinda annoying and might cause hypertension in long run. So I decided to DIY some simple medicine.
1.
I used this kind of wool insulation as they are soft and a good damper material. They are available at most accessories shop or even some hardware shops. CAUTION: CAN CAUSE YOU SCRATCH YOUR BODY LIKE A MONKEY (ITCHINESS).
2.
I cut 4 small pieces and stuff them in between the speaker rim and the door panel. This is to absorb vibration from the speaker to the door panel.
3.
This is the inner door panel of a Perodua Myvi Lagi Best. Notice the big area beside the speaker sound mesh...that's the area where vibrations is the most as the plastic is thin and has no reinforcements.
4.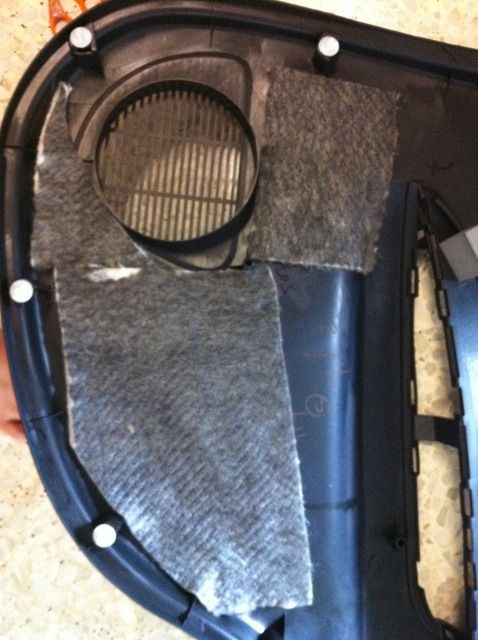 Using double side tape, i pasted the insulation to where it should be..the thin and flappy plasticky area. Put the door panel back on and job done ! I have also pasted some DEADENING sound insulation at the metal side of the door...coz I have some left from my previous car. Helps out abit :rolleyes:
5.
This is my QA/QC supervisor. You can see her legs in one of the pictures above. So far, no complaints from her.
The result? Very big disappointment. I am disappointed with Myvi's ori speakers and its sound insulations! It causes me to have to do all these! But as for the DIY insulation, sweet. The sound of panels vibrating are a lot less and I can enjoy blaring sounds that really cause me deaf but happy.

Last edited: