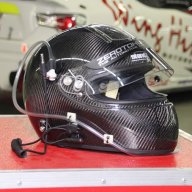 Jul 6, 2000
5,509
3,199
5,213
The Porsche Carrera Cup was on this weekend and I had the opportunity to take a peep at their practice on Friday after VW's launch of the new Polo GTI. The PCCA was an awesome sight on it's own, allowing by-standers to study how their works team prep their cup cars. It was a bonus as selected Porsche owners from Singapore graced the PCCA practice with their very own track day. Some turned up in Hoosier full slicks just to give the cup cars a run for their money at their lap times.
Stunning GT3 RS MK 2 in Blue / Red combo
Cup Car Weighing scale
Individual pedal pumps
A clean, almost sponsor-less cup car
The Battalion
Hong Kong's Alivenotdead.com social network for Artistes
Lime
Center lock hub
"If we stare long and hard enough, it'll probably unjam itself"
Black and Gold always a classic
OZ Ultraleggera HLTs on the 911
Smurf
Layman and Cayman
Ballistic GT2 in Orange
Slicks on GT3 MKII
Devil's own
Shark
A TimeToAttack 2010 Finalist
Cupcake
RS2 making its way through the pitlane..
..back to the pits after a drizzle
Center lock wheels a time saver