What's the deal?




Edaran Tan Chong Motor Sdn Bhd (ETCM) today proudly announced the global premiere of the new Nissan Teana NISMO Performance Package. The NISMO Performance Package for the Nissan Teana is the latest upgrade option for Nissan models in Malaysia, with 2 packages to opt for; NISMO Performance Package and/or the NISMO Aero Package.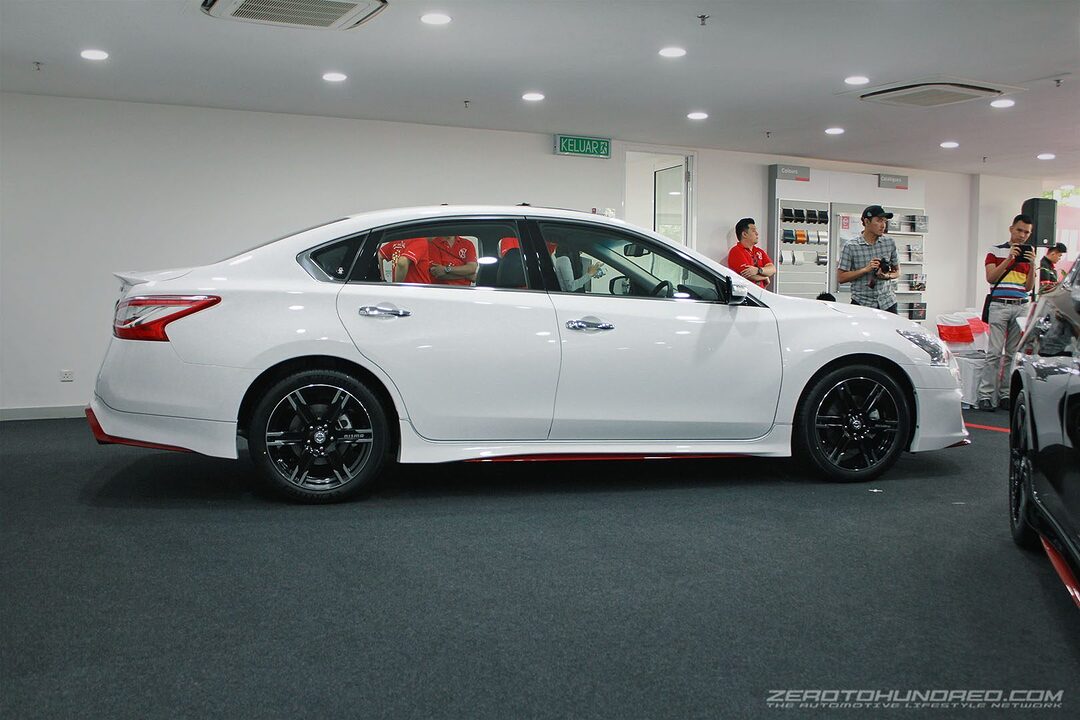 Exclusively unveiled by NISMO racing drivers Tsugio Matsuda and Ronnie Quintarelli, the Nissan Teana NISMO Performance Upgrade is available for all Nissan Teana variants and can be had in 5 body colours, namely Storm Blue, Diamond Black, Tungsten Silver, Bronze Gold and Brilliant White. With the unveiling of the car, it also made Malaysia the first country in the world to offer the upgraded Nissan Teana through Nissan showrooms.


Nissan Teana NISMO Performance Package




Engine: QR25DE 2.5-litre DOHC with Twin CVTC 4-cylinder in-line
Power: 173hp at 6,000rpm
Torque: 234Nm at 4,000rpm
Zerotohundred: n/a
Transmissions: Next generation X-CVT with Driver Sport and Eco Mode
Dimensions: 4,885mm (L), 1,830mm (W), 1,485mm (H)


What do you get?



The performance package comprises of 2 options, each with a host of NISMO's motorsport-derived exterior panels that are manufactured strictly in accordance to NISMO's standards, apart from making the Teana sharper and a more stylish sedan.


The upgrades for each package are listed as follows:




1. NISMO Performance Package (RM16,960)
NISMO Front Bumper Spoiler
NISMO Rear Bumper Spoiler
NISMO Side Skirts
NISMO Trunk Lid Spoiler
NISMO Sport Springs
NISMO Exhaust Finisher
A set of NISMO LMX6 18-inch Alloy Wheels
A set of Michelin Pilot Sport 4 tyres


2. NISMO Aero Package (RM6,201)
NISMO Front Bumper Spoiler
NISMO Rear Bumper Spoiler
NISMO Side Skirts
NISMO Trunk Lid Spoiler
NISMO Exhaust Finisher


Elsewhere, the Nissan Teana NISMO Performance Package is essentially similar to the car it is based on. The company's global sedan model is awarded Best Overall Car in the ASEAN NCAP Grand Prix Award 2016 with 5-star ratings in both Adult Occupant Protection (AOP) and Child Occupant Protection (COP).




The Nissan Teana 2.5XV is capable of delivering 173hp and 234Nm of torque while the 2.0XL and 2.0XE churns out 136hp and 190Nm of torque. The performance is guarded by an array of safety features which include 6 SRS airbags and Nissan's Electronic Stability Control system, known as VDC (vehicle dynamic control), TCS (traction control system) and AUC (active understeer control).




However, the fitting of NISMO Sport Springs, 18-inch alloy wheels and Michelin's latest Pilot Sport 4 rubbers is expected to give the Teana a livelier and sharper ride, thus making the Teana worth wearing the NISMO badge.


The Nissan Teana NISMO Performance Package are factory-fitted with the following Nissan Global Quality Standards and comes with 3 years or 100,000km warranty (whichever comes first). For more information, kindly visit Nissan showrooms nationwide or log on to www.nissan.com.my.